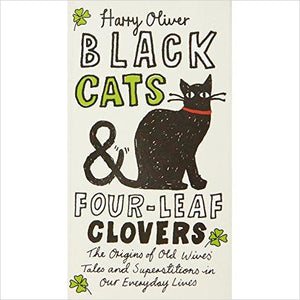 The Origins of Old Wives' Tales and Superstitions in Our Everyday Lives
Details: Cross your fingers, knock on wood, and clutch your rabbit's foot a little tighter.

In this charming and endlessly diverting book, Harry Oliver delves into the stories behind the traditions and superstitions that permeate our everyday lives, unearthing the fascinating histories of these weird and wonderful notions. So before you search for any more four-leaf clovers, worry about the next Friday the 13th, or avoid walking under any ladders, dip into this amazing tome and discover:
*Why breaking a mirror brings seven years of bad luck.
*The best day of the week to ask for a favor.
*Why you should never jump over a child in Turkey.
Author: Harry Oliver
Brand: Harry Oliver
Features:
Black Cats Four Leaf Clovers The Origins of Old Wives Tales and Superstitions in Our Everyday Lives
ISBN: 0399536094
Number Of Pages: 272
Publisher: TarcherPerigee
Release Date: 2010-09-07
EAN: 9780399536090