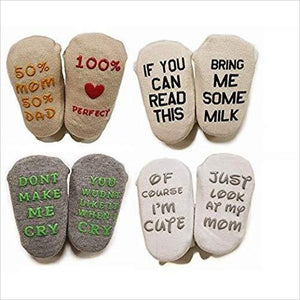 Details: Note: This Product is Sold ONLY BY MOMMACHIBABY . The Original cutest little baby gift -
This baby socks gift box of 4 pairs of unique quote non-slip baby socks is like no other.
A truly original baby gift of which the copies and imitators cannot compare.
Made of 90% combed cotton and 10% spandex these baby gift socks are beautiful to touch and lovely to wear. Baby gift socks colors of fawn, white, cream and grey are neutral and suitable as much for boys as they are for girls.
The cute quoted messages on the soles are rubberized and non-slip.
Size rating is: First Year. As babies grow so quick these are on the bigger side so that -
these baby socks will generally fit best on the majority of babies between 3 - 16 months
Please note - colors may appear lighter or darker than photographic image.
Make the most of babies little feet and enjoy the fun of them waving these cute baby socks around
- Because babies don't last forever ...
Features:
BABY SHOWER OR NEWBORN BABY GIFT - problem solved with this unique baby gift box of 4 pairs of baby quote socks. Twinkletoes are the Original cute baby quote gift socks and are made to the highest standards - don't be swayed by poor quality knock-offs. A beautiful gift that will be treasured.
SOFT TO TOUCH and won't irritate baby's skin - combed cotton baby socks with a touch of spandex for stretch-ability. The combed cotton adds a touch of elegance while the cheeky and fun non-slip quotes put a smile on everyone's face.
BOY OR GIRL - Gender neutral colors of fawn, cream, grey and white makes baby gift choice easy. The muted and neutral tones go well for any occasion
HAVE SOME FUN - Baby gift sock quotes are | if you can read this - bring me some milk | don't make me cry - you wudnt like it when i cry | 50% mom 50% dad - 100% perfect | of course im cute - just look at my mom. All complementary quotes - no bad taste jokes or intonations making for a lovely gift that no one will cringe at
THE ORIGINAL - Twinkletoes by Mommachi are designed and made with thoughtfulness and care. We love that warm feeling of giving and receiving gifts and we designed this cute socks gift box to ensure genuine smiles are had all round. If you're not entirely happy with this delightful little gift let us know and we'll do everything we can to help.
Brand: TWiNKLeToeS
Color: white grey fawn cream
UPC: 761856470514
EAN: 0761856470514
Package Dimensions: 7.9 x 5.5 x 0.9 inches