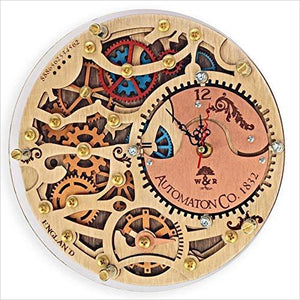 Details:
An automaton (pronunciation: /ɔːˈtɒmətən/)(plural: automata or automatons) is a self-operating machine, or a machine or control mechanism designed to follow automatically a predetermined sequence of operations, or respond to predetermined instructions.
Some automata, such as bellstrikers in mechanical clocks, are designed to give the illusion to the casual observer that they are operating under their own power.
wiki
Our wooden clock is made of many layers of Baltic birch, painted wood stain and covered with protective acrylic glass.
Handcrafted galvanized brass screws are used in the clock.
The clock can be personalized (any name on clock face instead `Automaton` +10USD). Please use this link for a custom order https://www.amazon.com/dp/B072HYF9KN
*the gears are decorative and they don`t move together with the quartz clock mechanism.
**AA battery is not included
***the clock hands can slightly differ from those on the pics
Brand: WOODANDROOT
Color: old wood, brass, red, blue
Package Dimensions: 13.0 x 11.8 x 3.5 inches