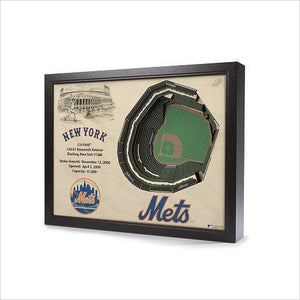 Details
These 3D stadium replicas pay tribute to some of the most famous (and beloved) professional and college sports stadiums in the USA—and they're made here, too. Precision-cut pieces of wood are layered to create an aerial, three-dimensional effect. Hand-drawn details (like field lines and facts about the stadium) finish off these framed and ready-to-hang designs that are sure to be a fan favorite.
Made in the USA: Warsaw, IN
Materials: White birch, poplar wood and medium-density fiberboard frame
Features original hand-drawn artwork with stadium facts and features
Three-inch-deep layered wooden 3D wall art
Finished with dark brown wood composite frame
Includes hardware for hanging
Great gift for the devoted sports fan
Dimensions: 25.5" x 19.5" x 3.5"
Weight: 15 lbs.
About StadiumViews
Stadium Salute
Whether you're an NFL fanatic or want to honor your alma mater, StadiumViews has a 3D stadium replica. They've captured an aerial view of hundreds of professional and college team stadiums. And every piece is Made in the USA.
They focus on catching all of a stadium's details from a blimp's perspective. From the seats to official logo, everything is represented on precision-cut pieces of white birch and poplar wood. The pieces are layered to create the three-dimensional effect.
It's an artistic way to pay tribute to some of the most famous—and beloved—sports arenas. Each stadium has hand-drawn original artwork as well as facts and features that make it unique—and it comes framed and ready to hang. (Score!)