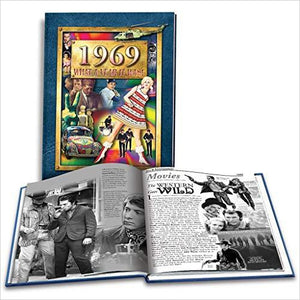 Details: WHAT A YEAR IT WAS! is a fascinating look at the headline events and news-making personalities of 1969. Told through compelling pictures and words, this lavish hardcover volume covers all of the year's biggest stories-the news, entertainment, sports, fashion, fads and people that changed our lives forever. Plus, a generous sampling of vintage ads that will carry you back in time 1969 was an exciting year in a turbulent decade. "Midnight Cowboy" was the most celebrated movie of the year and "Easy Rider" reflected the counterculture. "Sesame Street" had its Public TV debut while, on a London rooftop, The Beatles gave their last public performance. The Woodstock Festival rocked the world, giving much of the world it's first look at The Who, Janis Joplin and Jimi Hendrix, among many others. Diana Ross, Johnny Cash and Neil Diamond topped the music charts, while the nudie musical, "Oh! Calcutta!", shocked Broadway. Andy Warhol and Peter Max stretched the boundaries of the art world. Man set foot on the Moon as the war raged in Vietnam and anti-war protests grew. The Manson Family commenced their murder spree. Sirhan Sirhan answered in court for the murder of Bobby Kennedy while James Earl Ray was tried for the assassination of Martin Luther King. The computer revolution was picking up steam. Women's fashion became more feminine and sophisticated. Kids were occupied with Nerf Balls and Easy-Bake Ovens. "Broadway" Joe Namath led the New York Jets to Superbowl victory, while the "miracle" New York Mets beat the Baltimore Orioles to win the World Series. Wherever you were or weren't in 1969, WHAT A YEAR IT WAS! 1969 will bring a sentimental smile to your face as you relive that very special time. Our big, classic hardbound yearbook is filled to bursting with stories, photos, and artwork detailing the movies, music, shows, sports, fashion, news, people, places, and events that made 1969 unique and memorable.
Author: Peter Hess
Edition: 2nd
ISBN: 0922658285
Number Of Pages: 160
Publisher: Flickback Media, Inc.
Release Date: 2016
EAN: 9780922658282
Package Dimensions: 11.0 x 8.6 x 0.6 inches
Languages: English