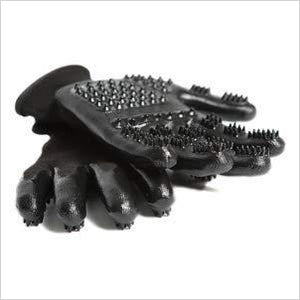 Details: HandsOn Gloves are a revolutionary concept that reaches far beyond the traditional curry combs, mitts and shedders on the market today. Wet or dry, they won?t slip or fall off while providing you and your animals with a more thorough and enjoyable bathing and grooming experience. Ideal bathing, grooming and shedding tool for horses, dogs, cats, small animals and livestock.Available in junior, small, medium, large and XL. Refer to sizing chart to find the right fit.
Features:
HandsOn Gloves a True Revolution in Bathing, Grooming and Shedding.
Wet or Dry - an Actual Fitted Pair of Gloves with Scrubbing Nodules on Fingers and Palms.
Outstanding Shedder! And the hair does not stick to the gloves.
Better Massages and Stimulates Circulation and Distributes Natural Oils for a Healthy Skin and Coat.
Gently Clean Legs, Faces, Tight Body Contours and Your Hands and Fingernails Stay Clean.
Brand: H HANDSON
Color: Black
Legal Disclaimer: "No products are intended to diagnose, treat, cure or prevent any disease." Our tough nitrile, PVC and nylon gloves offer you numerous excellent results as a hypoallergenic designed product including the ability to avoid allergenic reactions some people may experience with common rubber or latex glove products. There is NO LATEX RUBBER or common rubber used in the manufacture of HandsOn® Gloves! Some insect repellant liquids or sprays may contain chemicals or substances which deteriorate synthetic product components in all synthetic products produced by many manufacturers, not just our gloves; so, please read the product safety labels for your protection. Our product components generally have high resistance to chemicals, oils and punctures; this is accomplished without compromising elasticity and flexible strength. That's the foundation of tough and durable HandsOn® Gloves!
Publisher: HandsOn Gloves The Original
UPC: 867988000008
EAN: 0867988000008
Package Dimensions: 12.8 x 6.1 x 0.9 inches