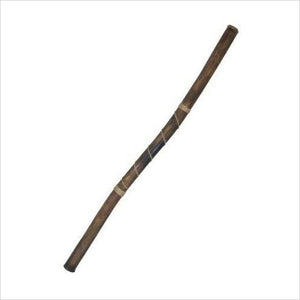 Details: Deep drones, bright overtones, earthy appearance, and customized comfort characterize the Fire Etched Modern Didgeridoo. You'll be impressed with the volume this didge puts out, with the near indestructibility coming in handy around children or when traveling. The price point, natural wood-like look, and full sound make this one of our best selling didgeridoos. Covered by our warranty, this didge features: * 45.5" tall, 1.5" wide - optimal for easy transport and excellent sound * hand crafted with synthetic (polymer body) and natural materials (jute and beeswax) * more durable than wood, and is weatherproof and lightweight * mouthpiece dipped in dark, raw bee's wax, helps to create a seal between the molded playing end and your buzzing lips to make a better drone * natural jute twine bands add style and grip * very bright, deep, resonant tone in the key of D *NOTE: To clear up any confusion created by marketplace customers who have answered questions incorrectly... This didgeridoo is not made of wood or bamboo :-) It is actually a polymer tube that has been hand-crafted, one by one, fired and shaped to look like wood and to make each one unique. Our work is of such good quality that some customers apparently cannot tell the difference, which we take as a complement! Thank you for your support. ***The sale of this didge provides financial support for the efforts of Africa Heartwood Project in Liberia.***
Features:
Individual inspection and testing - we won't sell it if it doesn't sound good.
45.5" tall, 1.5" wide - perfect for the beginner looking for a lightweight, easy to play didge.
Hand crafted with synthetic and natural materials. More durable than wood or bamboo, weatherproof, and lightweight.
Contoured mouthpiece, sized for easy playing, and dipped in dark beeswax for a good seal
The sale of this didge helps support the efforts of Africa Heartwood Project .
Brand: World Percussion USA
Color: Fire-etched Tree Bark Look
Publisher: World Percussion USA
Package Dimensions: 46.3 x 2.6 x 1.8 inches