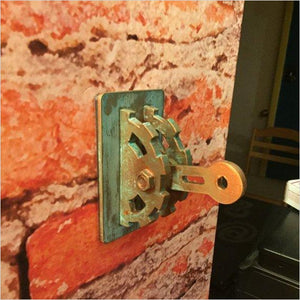 Make your home as unique as you are with this Steampunk / Industrial-style light switch cover, featuring center cutouts. Because it is made from 1/4 inch raw steel, it provides an authentic Industrial look. Just flip the metal levers to turn your lights on and off! It fits most toggle wall switches in the USA. Simply unscrew your existing switch plate cover, and screw this one in in its place. It is extremely easy to install!
My lever system has a bolt and nut design that allows you to adjust the amount of torque needed to flip the lights on and off. Your purchase comes with a small, matching wrench to help you adjust the bolts. It also comes with a steel spacer plate that ensures a tight seal against the wall and also prevents wobbling and unsightly gaps.
Base plate measures 4 ¾ inches tall by 2 ¾ inches wide. Levers extend 4 ¾ inches from the wall.
When installing, a good option is to turn your existing toggle switch upside down so that the up/down, on/off action of the levers is not reversed. 
This design is only compatible with toggle switches (the kind you flick up and down with your finger). If you have a dimmer or rocker switch, I can include a 15A-120V toggle switch with your order at no extra charge. Please notify me via a conversation if you need a complimentary toggle switch.