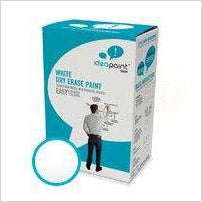 Unleash your creativity with the IdeaPaint CREATE Kit! This revolutionary product allows you to write on any smooth surface and turn it into a high-performance dry-erase canvas that erases cleanly every time. With its easy-to-apply, single coat roller or spray application, IdeaPaint is the most flexible, environmentally-friendly, and cost-effective dry-erase product available.
Gone are the days of traditional whiteboards that take up space and lack versatility. IdeaPaint offers you the freedom to create anywhere you like - in your office, classroom, or even in the comfort of your own home. Use it to brainstorm, create art, or jot down notes. The possibilities are endless!
Not only is IdeaPaint highly functional, it is also environmentally conscious. This product is free of VOCs (volatile organic compounds) and is LEED certified, meaning it contributes to a healthier and more sustainable environment.
Upgrade your workspace with the IdeaPaint CREATE Kit and transform any smooth surface into a dynamic and inspiring dry-erase canvas. With its clean erasing technology, it's easy to start fresh and create anew every time. Get yours today and experience the benefits of IdeaPaint for yourself!