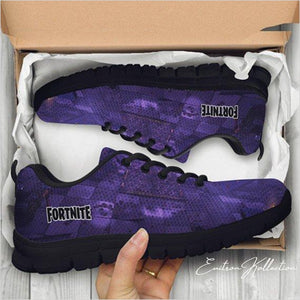 Custom Fortnite Battle Royale Sneakers......from our exclusive line, specially designed for Euitron Kollection.
These handmade custom sneakers make the perfect gift for any Fornite Lover. A perfect addition to their Fortnite Collection. 
Product Details:
The sneakers are handcrafted with lightweight breathable mesh fabric providing you with maximum comfort and performance. The breathable mesh fabric will ensure that your feet are kept cool and sweat-free. From everyday use all the way to serious training this EVA sole provides maximum stability and superior traction. The soles were crafted to last a lifetime guaranteed to never separate from the upper material. We've tested the sneaker on the road and on the trail and they have never let us down. 
Sizing Details:
Our sneakers run in TRUE sizes. Check out our sizing chart in the images section above for a precise measurement.
Each one is designed in the USA and then individually custom made for you. They are exclusively from Euitron Kollection, so you won't find them anywhere else.