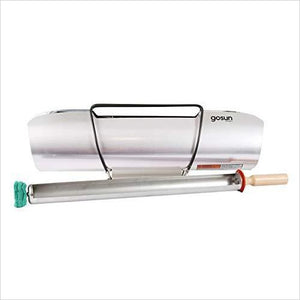 Details: From America's Leading Solar Cooking Brand, Designed in Cincinnati Ohio, USA. Featured by Top Chef, Discovery Channel, Outside Magazine, Popular Science and more. The GoSun Sport's award-winning patented design converts nearly 80% of all sunlight entering it's reflectors into usable heat, retaining if for hot meals with friends even in the most challenging conditions The Sport package includes: a durable Borosilicate Evacuated Glass Tube cooking chamber, two foldable Parabolic Reflectors made of industry grade anodized aluminum (+95% reflectivity), a Cooking Tray made of 304 Culinary Grade stainless steel, User's Manual, Cook Booklet, rugged Scrubby Cleaning Tool that attaches onto the tray's end and a Two Year No-Questions-Asked Warranty when ordered on Amazon from GoSun Stove or Brookstone. GoSun Stove: Powering Lives with Solar Cooking.
Features:
Portable solar stove - Deploys in seconds and collapses into a durable package; folding parabolic reflectors protect the cooking tube like a clamshell. Equipped with carrying handles and completely submersible, the Sport is designed for adventure.
Cool to touch - No fire hazard here. The stove's solar vacuum tube cooking chamber provides a near perfect layer of insulation, keeping the exterior surface cool even while hot inside.
Easy and delicious - Just load food into the tube cooking chamber and set the camber on the reflector to cook, no monitoring required. This solar grill retains your food's flavor and nutrition cooking from 360° (like a slow cooker - but faster).
Fast and reliable - Cooks a meal in as little as 20 minutes, reaching temperatures up to 550°F (290°C) in full sunlight. The GoSun Sport is effective at capturing ultraviolet light and holding its heat. If you can see a defined shadow, you can cook!
Included - Tube cooking chamber, 2 foldable parabolic reflectors, a stainless-steel cooking tray, a rugged scrubby cleaning tool and an instruction manual. GoSun does not require frequent adjustment, making it a low-maintenance, fuel-free cooking device.
Brand: GoSun
Color: stainless steel
Publisher: GoSun Inc.
Warranty: 2 Year Manufacturer Warranty
UPC: 856563005002
EAN: 0856563005002
Release Date: 2018-09-04
Package Dimensions: 32.6 x 12.3 x 6.2 inches