The ultimate scary gift guide for Halloween 2022
Do you love horror films? Do you have know someone with a phobia? or just want to scare someone?
It is a natural human tendency to find things scary and frightening and the Adrenalin rush is awesome. And aside to the sugar trick or treating, Halloween is the best time to use your creativity and make them wet their pants... :)
There are many things that a person can get scared of and that is the reason why one has to go about making the right choices when it comes to scary gifts, if for Halloween, or just for fans of the dark, scary pranks, frightening and scary feeling for… Check out this gift guide of the scariest gift ideas for Halloween, and if that not enough view the entire collection of scary ideas here

(Be very careful as this gift guide was published on Friday the 13th)
Blood Bags Drink Container 24 Pcs  
Blood bad drink containers are fun things because they contain fake blood. The best use of this is during Halloween when children would want to dress as ghosts, Dracula and zombies. They are very easy to use, and you can fill them with water, jell and other fluids. Best for party decorations and good for pranks. Find it here!
---
These zombie Popsicle molds are available in four different colors and shapes. They are interesting to look at because each of them has four different poses. If you are thinking about being attacked by zombies at night, then these are the mold figures to think of. You can fix these anywhere in your homes and have the best time with it. Find it here!
---
The Walking Dead: The Pop-Up Book
The walking dead popup book is an exclusive zombie book that has various shapes and sizes of zombies, one can make sure of the 3D quality of the book. Each and every artwork is given properly, and one can find very intricate details of zombies, which will seem for real as to startle you. Find it here!
Tears of Blood Floating Possessed Girl w Long Hair Creepy Horror Doll
Tears of Blood floating possessed with long creepy hair is a horror porcelain doll which is approximately 15 inches tall and 11 inches wide, and it has super crazy long hair with a stand, and all of that comes with the doll itself. If you are into creepy dolls, then this right one for you. Find it here!
---
This is a great book of superstitions if you are into one. The book contains explanations about all the important superstitions. It is weird, scary and very intriguing. If you want to be sucked into the world of timeless superstition, then get this book. Find it here!
Bath blood shower gel is a unique gift that you can gift anyone. The red pouch of shower gel, which is a blood bag, will definitely intrigue all of you and therefore you must make sure that you get it going. Between the best, shower gel and the worst and scary because it will fall like blood on you. Find it here!
---
The color changing zombie mug is a one-of-a-kind mug, which changes its color when you pour the liquid in it. If you are looking forward to gift someone birthday present that can amaze them, then this is simply what it is. All you have to do is to hand over the mug to them and pour something in it instantly to startle them. Find it here!
---
Bloody Shower Curtain – Color Changing!
Bloody shower curtains are very creepy things especially when your friend has it in the bathroom, and you are about to take a shower in there. It can totally spook someone out, and they will remember it all their life. If you are in for the kill, then this is the best gift to choose for any occasion. Find it here!
---
Dark psychology is of the best book from where one can learn emotional manipulation, undetected mind control, deception, hypnotism, brainwashing and more. You can get all the important tricks of mind work, and you can definitely use it on others. It is a great book if you are into twisted personalities. Find it here!
---
Tombstone Ice & Chocolate Mold
The Tombstone Ice & Chocolate Mold is a very important jelly-based food which has a skull in it, and they are easy to clean, and silicone based because it has no side effects. The right colors are available with this, and one has to make sure that all is done well, and the materials will have no side effects as well. Find it here!
---
The Biohazard plush toys are an essential gift which one can easily gift anyone. These giant plush bacteria are amazing because of their colorful toy shape and sizes. They are available in the Ebola, Toxic mold, TB, Brain-eating Bacteria and Anthrax. You can easily get your hands-on snug gable Biohazard gift box. Find it here!
---
Frantically Moving Eyeball Shirt
The frantically moving eyeball shirt, which is the best trait for the Halloween Party, and the shirt is designed in a way that the eyeball moves from it. The eyeball looks morphed, and once you have light falling on it such as a Smartphone, you can finally bring it to life while you are in the t-shirt. The t-shirt is produced by Morph suit. Find it here!
---
VOODOO DOLL
New authentic voodoo doll, in addition to the standard 7 colors of voodoo pins, this doll will also include 3 extra custom made black skull pins. Instructions as well as a pin color guide is included with each doll. This doll can be used to represent the holder of the doll (positive affirmations) or the doll can represent another (black magic). All of karma keepers' dolls are hand made completely from scratch. This item includes sharp pins and is not recommended for children. Find it here
---
Don't Read This Book Before Bed: Thrills, Chills, and Hauntingly True Stories
The book of thrills, chills and haunting stories is an exceptional compilation of true horror stories that are compiled for you, but you must make sure not to read it before going to bed. The book has unwanted and desolated tales from the swamps of darkness. This is an easy gift for anyone to experience the bone-chilling horror. Find it here!
---
The pop-up book of Phobia is a compilation of various fears that a human can have from, and there are thousands of them. This particular book will tell you all about each of these fears, how a person experiences it, how they can avoid these fears and how they are caused from various circumstances and situations. Find it here!
---
---
Feisty Pets: Glenda Glitterpoop the Unicorn
Feisty Pets: Glenda Glitterpoop the Unicorn is a unique and scary unicorn because of the expression that it makes. You can find it go "Aww" to "Ahh" just by one squeeze to the back of the ear. Glenda is 8.5 mm tall, and this pet is a rare beast, and it is hard to find, but for you, it can be the ideal gift to give. Find it here!
---
Laboratory Head in a Jar Prop is the best prop for your Halloween simply because of its deadly looks. The bloodied face is almost like a decapitated head, which will seem so real and there are projectors through his eyes that will seem like it just happened yesterday. This is one of the deadliest gifts for anyone. Find it here!
---
Monster Action Figure Bucket – Big Bucket of 100 Horror Toy Figures
The Big Bucket of Monsters is a very popular compilation of 100 toys that are surreal. You will find all kinds of monsters there and if you are looking forward to the perfect trick or treat, then go for these figures as a gift. These will Include- Frankenstein, werewolf, Cyclops, lagoon, Dracula, zombie and more. Find it here!
---
The plastic brain of jello mold is a scarily attractive gift which one can definitely gift you anytime. It is product of Fun world. This one will easily freak kids out, and one can easily make sure that this jello remains the same in volume and size. This is very real looking, and hence one must choose this one as a gift. Find it here!
---
The deadly but tasteful scorpion suckers which come in four different flavors- namely banana, apple strawberry and blueberry flavors. These real suckers are tasty and imagine eating real scorpions! These are very popular among children, and they will definitely find it very attractive. Find it here!
---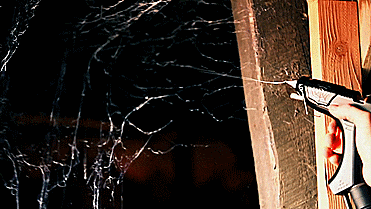 The spider web gun shooter is the best ever shooter that shoots Spiderman web. This is especially for kids who love Spiderman. It is fun because one can shoot real cobwebs and have the real fun of the deal. This is very realistic products, and one can simply have a great deal watching children play. Find it here!
---
The zombie lawn states are the best pranksters because of their appearance in the dark. One can have all the fun with these zombie hands, and they can easily scare away people. If you are beginning to think of the Fright night movie, then yes, you are dead right because these can give you a similar feel. These two pairs are what you need for your lawn in the dark. Find it here!
---
---
You must have found many zombie masks, but there are no zombie masks that are available as this one is. This is a total upside-down mask which looks very terrifying and that one can just go crazy just by looking at it. It is the best gift for Halloween. Find it here!
---
If you are extremely into horror movies, then you must make sure that you have the Zombie Duvet horror set because it's about to give you the chills. Find it here!
---
Most of us are scared of Spiders, right? But imagine a giant spider on your gate; it can literally freak the hell out of you. The giant spider decoration is the ideal for Halloween, and that is why one must have it. If you are going to have it, you had better be prepared first. Find it here!
---
Frankenstein Pumpkin Shaping Mold
The Monster pumpkin shapes mold is used to shape your Halloween pumpkin into the Monster face of Frankenstein. If you want to make it extra special, then this is just the products for you to check out. Find it here!
---
These are probably the best bunch of gifts that one can choose and select. So, what are you waiting for? Grab any of these scary products now!